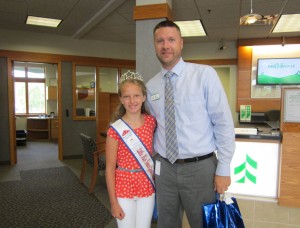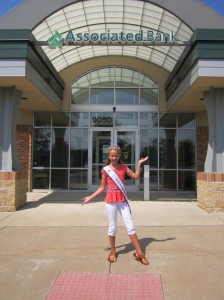 As my year winds down, I want to take one more opportunity to thank my sponsor.  Associated Bank has given me a year of memories, and I am grateful for their support in  the Inver Grove Heights Scholarship Program.
I have been given an opportunity this year to be an ambassador for our community.  I represented Inver Grove Heights through community service projects and attending other community events around Minnesota and in Wisconsin.  Thank you to Associated Bank for sponsoring.
Without sponsors, this program wouldn't exist.  Yes, I will receive a scholarship at the end of my reign, but this program is so much more.  I have more self-confidence when meeting new people; I am more comfortable talking in front of groups; I have had an opportunity to meet some amazing people; and most of all, I have five royal sisters for life.
Thank you Associated Bank.  You have provided me with memories of a lifetime.
Natalie Taufen
2014 Little Miss Inver Grove Heights 2014