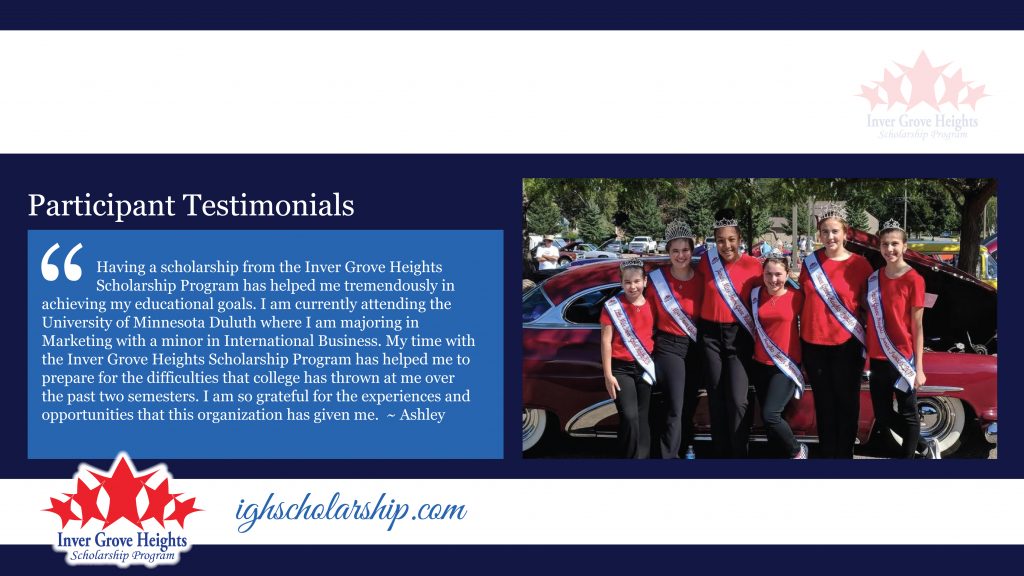 When I was crowned Miss Inver Grove Heights 2014 my life changed forever. After growing up in Inver Grove Heights, being able to represent and serve my community was one of the most important and fulfilling things I have ever been able to do. Through this experience I gained so many important life skills mainly leadership, communication, and confidence. Even as a candidate I knew I had already begun to change. Through the months of candidacy, the year of my reign, and the time afterwards, I have grown immensely as a person.
One of the biggest things I gained from being a part of the program is leadership skills. Prior to this time I'd never really considered myself the type of person to be a leader. I was quite skeptical whether this program was right for me (and so was my mom). I decided to give it a try and it didn't take long for me to realize that it was one of the best decisions I (with the help of my mom) had made in my entire life! As a royal ambassador, I became a representative for the city of Inver Grove Heights. Whether we were talking to a group of children or visiting a nursing home, I learned how to always present the best me that I could, with or without my crown, and brighten someone's day. I also worked alongside five other girls, four of whom were younger than me. To have them look up to me for guidance was something I had never truly experienced before, and through them I became a better role model and leader. Because of these leadership experiences I have been able to move forward and take on leadership positions at my college!
Another major skill I gained is communication. At all of the events I had the opportunity to attend, I was surrounded by people and it improved my ability to make conversation. Before the program, it was a little problematic for me to walk up to someone, shake their hand, and introduce myself. Now, I can't imagine it ever being like that. I also had many situations where I spoke in front of crowds that before would have made me very nervous. Through these situations, I was able to stand in front of people, or maybe just one person, and speak with confidence. In addition, the candidacy process involves individual and panel interviews, through which I gained very valuable interview skills that prepared me for job interviews in the future.
In addition to leadership and communication skills, I gained confidence. The sparkly crown was a fun part of it, but the most important thing I learned was that the best person you can be is yourself, and that you are beautiful for doing just that! I was comfortable with who I was before the experience, but being a part of it really helped reinforce this. It gave me the chance to grow and develop into the person I wanted to be, and also helped me branch out of my comfort zone and become better because of it.
Through my experiences with the Miss IGH Royalty Program, I gained many life skills including leadership and communication skills but, most importantly, confidence in myself. I met people and went places that I never would have been able to had it not been for the program and my sponsor. Through them I gained huge amounts of happiness and confidence in who I am today. To this day I am able to walk around daily (wearing my invisible crown) and look back on my reign entirely satisfied with what I have accomplished and where I am, because I had the time of my life!
Kelsey Stout
2014 Miss Inver Grove Heights
Role Model: Having One to Being One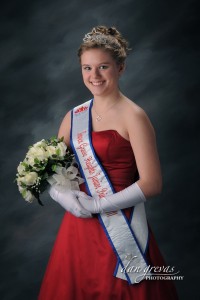 In the fall of my eighth grade year, my transition from childhood to adulthood was solidified by my accomplishment of being crowned Junior Princess of Inver Grove Heights 2011.  This position that I held in my community helped advance my communication skills with children and adults and aided me in becoming more comfortable in public speaking and general forums in which small talk was utilized.  A pivotal moment in my experience as Junior Princess happened during a community event in which the royal court went around to different neighborhoods and participated in activities with kids of all ages.
In one of the neighborhoods the other princesses and I visited, there was a little girl completely clothed in princess attire.  She so badly wanted to be a princess that when we arrived, she stood in awe; I and my fellow princesses were super stars in her eyes.  I bent down to her level to engage her in a conversation, and she was shy, but her eyes were not; they were fixated on the sparkling crown that I had on.  Making this realization, I interrupted my own attempts at conversing with her and simply asked her, "Do you want to try it on?"  After I asked her, her eyes sparkled brighter than my crown ever would as she shyly but excitedly responded, "Yes."  I removed the crown from my head and placed it on hers.  During this exchange, the girl's mother was watching as her daughter was "crowned," and I thought I saw her eyes begin to water especially when the girl said, "Mommy! I'm a princess!" When I received my crown back, the little girl still looked at me in awe, but now, perhaps, with a small part of motivation, to someday have her own crown. The motivation I believe I saw really helped me figure out what we offered the community.  This is the most concrete memory I have of my experience as Junior Princess of Inver Grove Heights, and possibly the best explanation for what the program offers to the community: a group of young women who have shown the ability to go beyond the exterior self to reveal what is truly beautiful on the inside of every individual – proving that everyone is a role model to someone else. We showed that to be yourself is the most beautiful attribute to have, instead of being someone you are not.   As the crowned ladies of the program, we were both real-life princesses and examples of refined, mature women whom each little girl could strive one day to become.
This incident perfectly encompasses my transition from childhood to adulthood.  I realized that, in childhood, you have role models that you want to be and look up to.  In adulthood, you are the role model that others look to be and ask advice from.  I had become the role model that others want to follow, and with that, came more responsibilities and a greater awareness of who I was as a person and what others thought of me.  Today, I still carry with me the experiences I had as a community ambassador, reaching out to those who are struggling with being themselves comfortably and providing the public the best version of me.  I do this now in hopes that someone will develop the drive and motivation to become an extraordinary role model herself.
Marnie Rechtzigel
2011 Inver Grove Heights Junior Princess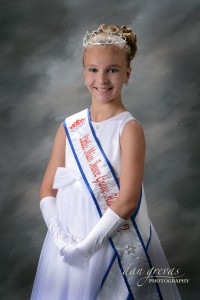 The Inver Grove Heights Royalty Program was very rewarding for me. Being involved brought out my sense of leadership and made me come out of my shell. It also taught me that without volunteers, almost nothing would be possible. I had a great time during my reign and I made friendships that will last a lifetime.
Sophia Dahlke
2012 Little Miss Inver Grove Heights
Valerie Marlowe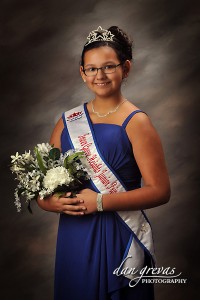 Before I was crowned I experienced two candidacies, attended about 24 candidate events, failed, succeeded, and watched 12 other girls do what I wanted to do, all before I was twelve years old. On the night of September 6th, 2013, I could finally do what I watched many girls before me do — I was crowned Junior Princess of Inver Grove Heights.
Through the program, I loved and learned; made friends with many different people, and expanded my horizons. I loved five other girls, and I learned lessons that will stay with me forever.  Through my experience I improved on many things like socializing and how to handle certain situations. As a member of the Royal family, I was involved in community events like Inver Grove Heights Days, charity events and volunteering. The program really helped me learn a lot about my community.
The Miss Inver Grove Heights Scholarship Program meant a lot to me and it always will.  My involvement was a "way out" where I could go away with the girls I loved and escape the drama at school or the cramming for tests.  This program will always hold a special place in my heart.
Valerie Marlowe
2014  Inver Grove Heights Junior Princess