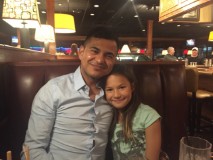 I met with my sponsor Victor Sanchez, owner and operator of Sanchez Stucco and Stone.  I call him dad.
We talked about my experiences as Little Miss Inver Grove Heights over dinner at Ruby Tuesday.  He is very proud of the service work I have done. I told him about the exciting events I have attended and the money I raised for the Walk to End Hunger.
It was different to have such an official meeting with him.  I let him know how much I appreciated everything he has done for the Program and myself.
Hillary Gill-Tabuso
2016 Little Miss Inver Grove Heights