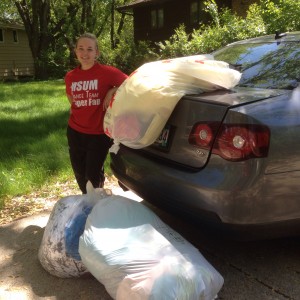 Harbor Community Church-Prior Lake, MN
For my first service project I decided to reach out to friends and family to collect clothing donations for those in need. I had come across Harbor Communty Church because they offered a service to those in need, for free. In the church is a big room filled with jackets, clothes for all ages and sexes, books, toys, diapers, food etc for those who are down on their luck. The families are welcome to come and receive the help needed at no cost. What sets this place apart from others is that there is no limit on what you are able to receive in one sitting. This is what caught my eye and made me want to donate to this organization. A total of 589 items were collected and donated from 11-10-14 to 1-16-15, including 2 infant car seats! 
For my second service project I decided to collect prom dresses for Operation Glass Slipper. 
Operation Glass Slipper is a non-profit created in Minnesota that provides prom gowns and accessories for high school students at NO CHARGE who would be unable to attend prom due to family financial difficulties/hardships. Operation Glass Slipper has "Fairy Godmothers" who each join a girl on her journey to make her prom perfect. These Fairy Godmothers help her pick out a dress, shoes and accessories, at no charge. Beginning on February 25th, 2015 and ending on May 21st, 2015 a total 48 dresses were collected and donated at Weddings By Tess in Apple Valley MN, who is also a sponsor of the Inver Grove Heights Program. 
Trish Harwell
2015 Miss Inver Grove Heights